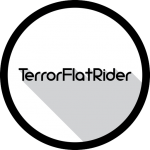 Greetings! My name is Thanasis Goulas a.k.a. TerrorFlatRider.
I'm from Greece, born in 1993 and I live in Athens since then. I graduated from my high school in June 2011 and finished my studies on Software / Web Development in a private college at Greece, in June of 2015.
I have passion for many stuff, but the learning of new things it's the most exciting for me. So I dived into many topics like Photography & Video, Graphic Design, 3D & Animation, Programming, Music Production, Digital Marketing and the list is going on. I am not master at all, but every day trying to improve my skills to become better in everything I do. I 'm a self-taught individual but I managed to reach a respectful level for any off my skills.
Software Development /Programming
45%
Video & Audio Editing
55%
Search Engine Optimization
65%
YOU WANT TO KNOW MORE ABOUT ME?